Timeline

India's bilateral ties with Malaysia and Indonesia exude confidence and exhibit mutual trust. There are no major disputes or problems on the politico-diplomatic front, the bilateral trade has been on the increase, and the defence and security cooperation is practical and proceeding well.

Malaysia, under the leadership of Prime Minister Tun Dr Mahathir Mohamad is expected to undertake institutional changes, without any major constitutional amendments, to address years of poor domestic governance and weak financial mismanagement. There is strong evidence of continuity in its foreign policy focused on China. Malaysia is taking practical and pragmatic approaches to engage Beijing notwithstanding the latter's assertiveness in South China Sea as also the imbroglio over the infrastructure projects being undertaken by Chinese companies under the Belt Road Initiative. On the business front, the prevalent view is that doing business with India is still difficult despite recent improvements. The extradition of Zakir Naik (though not discussed during the visit) is a sensitive matter and it will be prudent to follow normal official procedures. Quiet diplomacy can be a good tool to encourage Malaysia to change its mind.

Democratic consolidation in Indonesia is on a strong footing and progressing well. On the foreign policy front, Indonesia is pursuing `bebas dan aktif' or a free and active foreign policy. Key issues of interest are preservation of ASEAN unity and ASEAN centrality, addressing China's phenomenal rise, future US engagement in the region and the ongoing US-China trade war. Chinese reclamation of features and militarisation of islands in the South China Sea, issues of freedom of navigation and military over flight, and the evolving Quadrilateral Security Dialogue is unnerving for the Indonesians. However, Indonesia is quite sanguine about the Indo-Pacific and is expected to lead and promote the concept among the ASEAN countries.

There is urgency among the ASEAN countries for early RCEP negotiations and they are looking forward to India coming onboard. However, a negative perception of India prevails on its offer of limited and differentiated tariff liberalisation at the RCEP. India needs to show greater flexibility and follow the sequential negotiation process. In case India persists with its stance, the ASEAN countries may even consider RCEP minus One.

There are numerous opportunities in Indonesia for Indian businesses in the coal sector, particularly in setting up of power plants under BOT model, as also collaboration in natural gas, hydrothermal and geothermal energy sectors. Indonesia has large natural gas reserves and LNG import is a win-win situation. It can also be leveraged in achieving India's regional gas integration aspirations. The Indonesian government is keen to harness renewable energy and Indian collaboration in manufacturing and services is a promising field. Indonesia can be encouraged to join the International Solar Alliance (ISA).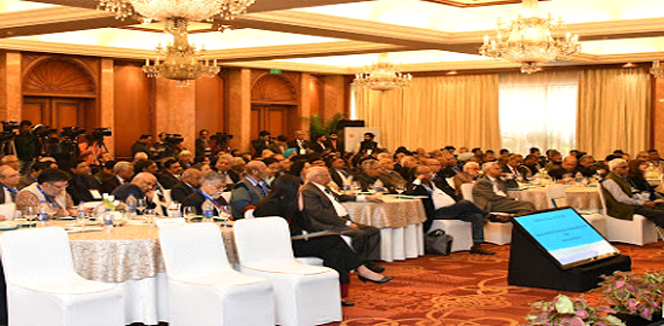 The Foundation's first international conference Purbasa: East meets East: Synergising the North-East and Eastern India with the Indo-Pacific was held in Bhubaneswar, Odisha. Dr S C Jamir, Hon'ble Governor of Odisha; Sri Dharmendra Pradhan, Hon'ble Minister for Petroleum and Natural Gas, Skill Development and Entrepreneurship; Sri C M Patowari, Hon'ble Minister for Industry and Commerce, Assam; and Mr Gamini Jayawickrama Perera, Hon'ble Minister of Buddha Sasana, Sustainable Development and Welfare, Sri Lanka participated in the three-day conference.

The conclave also attracted a galaxy of experts – Ministers, MPs, serving and former ambassadors, former military leaders, academics, specialists from think tanks, business CEOs, and representatives of civil society from India and the Indo-Pacific region.

Thirty seven experts and diplomats representing countries of the region and 34 experts from different areas of India formed part of a sizable audience at the inaugural and valedictory sessions, held respectively on 16 and 18 March. The response from and engagement of Odisha's academics, intellectuals and media was both enthusiastic and substantial. Both sessions heard important messages from the political leadership.

Spread over eight sessions, the conference covered diverse aspects of India's relations with the region, namely i) Economic Cooperation, ii) Maritime Connectivity and Security in the Indo-Pacific, iii-iv) Regional Connectivity (two sessions), v) Connecting Women, Youth and Civil Society, vi) Energy Cooperation, vii) Tourism, Culture, Buddhism, and viii) India's Bilateral Relations with Sri Lanka, Myanmar, Indonesia, Japan, and with ASEAN.

The concept of the conference was delineated in the backdrop of changes in the Indo-Pacific region that faces many possibilities and challenges today. India's East and Northeast have enjoyed a civilisational connect with other countries, both overland and through the Indian Ocean and the Pacific Ocean, for centuries. India's Act East Policy has extended the nation's vision beyond ASEAN to the larger Indo-Pacific region which unifies the Indian Ocean Region (IOR) and the Western Pacific region into a singular construct. The conference's raison d'être was to discover answers to a seminal question: how should the relationship between India and countries of the region develop in this period of geopolitical flux in the wider Indo-Pacific?